Engaging Diversity
In addition to Dr. Banks' academic and corporate work, She is also engaged in her community and has developed applied programs for higher education and K-12 population. Dr. Banks co-chaired a racial justice summit in conjunction with the Bloomington-Normal, Il YWCA. In addition, she piloted a program for middle school girls to engage them in math and science through the social science research paradigm. She served as a facilitator for a Carnegie-sponsored program to improve interethnic relations among youth, and she has worked with public school teachers and students on issues of race and diversity more broadly.
In the aftermath of the shooting of Michael Brown Jr., Dr. Banks became engaged in the community by offering probono services in conjunction with the St. Louis chapter of the Association of Black Psychologists in addition to acting as a de-escalator during marches and protests. In addition to her "on-the-ground" work, she was also sought out as a subject matter expert on racial equity by the Ferguson Commission.
Previously, Dr. Banks has spearheaded efforts to increase the engagement of students with diversity initiatives on college campuses. She partnered with Dr. Meghan A. Burke of Sociology to implement this innovative program.
Engaging Diversity Program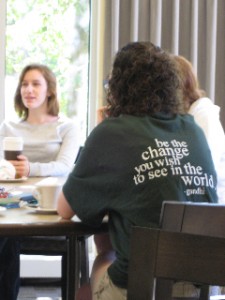 This program launched in August of 2010 as a pre-orientation for first-year students entering college. It was developed specifically for White students to educate and engage them in diversity on campus.  The goal was to provide a separate space for White students to learn about diversity and develop self-awareness, although this process was supplemented with interactions with our MALANA (multi-racial; African, Latin, Asian, and Native American) and international students, who were on campus at the same time.  Despite hesitation on the part of some to separate groups, research suggests it is possible to engage in within-group processes without increasing intergroup bias. In the end, the students appreciated the safe space to ask difficult questions and learn about institutional racism and privilege in a closed environment.
Expressing awareness and confidence another student said, "Now I really view race as something present and real in our lives, but brought upon us unjustly … I really haven't thought of myself as 'white' before this weekend.  But I am, I've been born with these privileges and it's something I get to own up to."
Another student reflected, "White privilege was crazy to me.  I had no idea that those kind of things existed, even though I was already aware that white people have more 'luck' than other races."
One student eagerly stated, "I think this is a part of the educational progress [sic] that EVERY incoming first year student should go through."
More students were interested than could be accommodated, so Dr. Banks is currently seeking funding to expand the program.