Research & Teaching
Research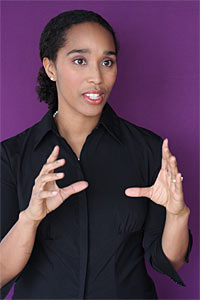 Dr. Banks' research program has two trajectories: 1) examining the experience of African Americans with discrimination, and mental health, and 2) diversity in higher education and intergroup relations. Related to the former, she explores the experience of discrimination and racial identity (how individuals integrate race into their understanding of who they are). The latter, which focuses on intergroup relations, is intricately linked with the first trajectory. In her earlier work on the experience of discrimination, she consistently offered as an implication the need for creating more hospitable environments. For example, on college campuses, it is essential that we not only support students of color but also educate White students about what it means to engage in a diverse environment. Therefore, Dr. Banks' work attempts to minimize the deleterious affects of discrimination while simultaneously intervening to foster increased and improved intergroup interactions.
For selected publications, please click here.
For a current curriculum vitae, please click here.
Teaching
Dr. Banks' teaching philosophy is to convey excitement, to infuse intellectual curiosity, and to make material relevant to students, in hopes of creating an optimal learning environment for students. She sees her role as a partner in the learning process who can connect with students to help them understand and grow. As a teacher, Dr. Banks understands that she also serves as a mentor and resource for students. In addition, students must be active participants in the classroom by taking ownership of the material. She seeks to help students critically analyze and discuss ideas from multiple perspectives and to connect psychological concepts to real-life experiences.
Dr. Banks' courses include Abnormal Psychology, 100-level writing seminars, and 300-level advanced seminars (e.g., Psychology of Racism, Engaging Diversity in Applied Settings, Media Depictions of Mental Illness, and Middle School Girls and Social Science).